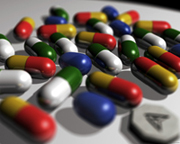 Drugs and Pharmaceutical Industry- It's noble service to the Health-care and welfare of the human beings attracted us to add our service to this industry. We have been selling Drugs & Pharmaceutical raw materials for over a decade by direct imports, exports and through indenting.

We centralized in Mumbai with a well organised business set up having associates located in major business activity centres in India like Ahmadabad, Bengaluru, Kolkata, Delhi, Hyderabad, Chennai and Pune. Our annual turnover is US $ 15 million.

We visit abroad, analyse and ensure ourselves about the quality of products, reputation of manufacturers, etc. before we place orders/ issue indents on behalf of our clients. The strongest facts of our business base on the reliability and promptness of our response to customer's needs.